FTLOJ Sponsored Events
Buy Tickets Online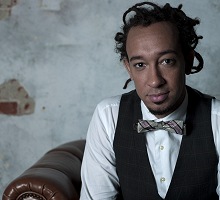 Gerald Clayton Quartet
Monday, October 7, 2019 at 7:30 PM
$25 General; $20 FTLOJ Members; $5 Students w/ ID

General and Membership Discount Tickets available for purchase on line or at the door; Student tickets available at the door.


Hall Recital Hall
University Arts Building
1335 North Virginia St
University of Nevada, Reno
Gerald Clayton
Gerald Clayton searches for honest expression in every note he plays. With harmonic curiosity and critical awareness, he develops musical narratives that unfold as a result of both deliberate searching and chance uncovering. The four-time GRAMMY-nominated pianist/composer formally began his musical journey at the prestigious Los Angeles County High School for the Arts, where he received the 2002 Presidential Scholar of the Arts Award. Continuing his scholarly pursuits, he earned a Bachelor of Arts in Piano Performance at USC's Thornton School of Music under the instruction of piano icon Billy Childs, after a year of intensive study with NEA Jazz Master Kenny Barron at The Manhattan School of Music. Clayton won second place in the 2006 Thelonious Monk Institute of Jazz Piano Competition.
Expansion has become part of Clayton's artistic identity. His music is a celebration of the inherent differences in musical perspectives that promote true artistic synergy. Inclusive sensibilities have allowed him to perform and record with such distinguished artists as Diana Krall, Roy Hargrove, Dianne Reeves, Ambrose Akinmusire, Dayna Stephens, Kendrick Scott, John Scofield Ben Williams, Terell Stafford & Dick Oatts, Michael Rodriguez, Terri Lyne Carrington, Avishai Cohen, Peter Bernstein and the Clayton Brothers Quintet. Clayton also has enjoyed an extended association since early 2013, touring and recording with saxophone legend Charles Lloyd.
2016 marks his second year as Musical Director of the Monterey Jazz Festival On Tour, a project that has featured his trio along with Ravi Coltrane, Nicholas Payton, Terence Blanchard and Raul Midón on guitar and vocals.Clayton's discography as a leader reflects his evolution as an artist. His debut recording, Two Shade (ArtistShare), earned a 2010 GRAMMY nomination for Best Improvised Jazz Solo for his arrangement of Cole Porter's "All of You." "Battle Circle," his composition featured on The Clayton Brothers' recording The New Song and Dance (ArtistShare), received a GRAMMY nomination for Best Jazz Instrumental Composition in 2011. He received 2012 and 2013 GRAMMY nominations for Best Jazz Instrumental Album for Bond: The Paris Sessions (Concord) and Life Forum (Concord), his second and third album releases.
Capturing the truth in each moment's conception of sound comes naturally to Clayton. The son of beloved bass player and composer John Clayton, he enjoyed a familial apprenticeship from an early age. Clayton honors the legacy of his father and all his musical ancestors through a commitment to artistic exploration, innovation, and reinvention.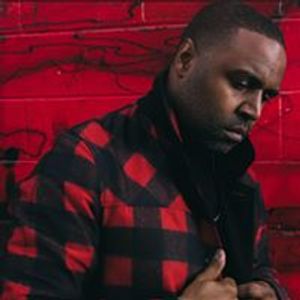 Kendrick Scott, drums
Kendrick 'KADS' Scott, born July 8, 1980, and raised in Houston, Texas, is an artist of incredible depth, talent, and determination. He has been featured in Terence Blanchard's band for the last six years and has appeared on the Grammy Award-winning and nominated recordings, A Tale of God's Will, and Flow, on which he contributed original compositions and orchestrations. Since arriving in New York City in 2003, Scott has appeared on more than 30 records as a sideman, and on the soundtracks to seven feature films. He is recognized as an endorser by Yamaha Corporation, Remo, Vater, Puresound, Sabian, Protechtor, Craviotto Snare Drums and Danmar Percussion.
However, touring the world and recording with the likes of Blanchard, as well as Herbie Hancock, John Scofield, Dianne Reeves, Maria Schneider, Wayne Shorter, Angelique Kidjo, Bilal, Christian McBride, David Sanborn, John Patitucci, The Crusaders, Kurt Rosenwinkel, Robert Glasper, Stefon Harris, Kenny Garrett, Pat Metheny, Nicholas Payton, Patti Austin, Gretchen Parlato, Lionel Loueke, Roy Hargrove, Raul Midon, Taylor Eigsti plus playing on numerous film soundtracks by Spike Lee and other filmmakers, is not nearly enough for the uber-talented 29-year old.
While excelling in the business of playing music, Scott decided to plunge head first into the business of running a record label. In preparation for his debut recording as a leader, the drummer discovered the need for himself and other artists to have a new platform from which they could release their music. Scott also had no desire to place the destiny of his first recording in the hands of a traditional record label. In 2007, he launched World Culture Music with the release of Kendrick Scott Oracle – The Source.
Kendrick Scott grew up in a household of musicians and first encountered the drums in church, where his parents and older brother were involved in the music ministry. By age six, Scott's parents (Stepheny and Kenneth) could see that the young man's interest in the drums was not a passing fancy, so they set him up with sticks, a pad and lessons. "As a kid, I remember listening to the music at church and feeling chills in my body. I knew then, that music was my calling." Years later his hard work, and the great support of his family, enabled Scott to attend Houston's renowned High School for the Performing and Visual Arts (other graduates include Robert Glasper, Chris Dave, Mike Moreno, Jason Moran, Eric Harland, Beyonce and many others). While a student, he won Downbeat Magazine student awards, plus the Clifford Brown/Stan Getz award, presented by the IAJE and the National Foundation for the Advancement of the Arts. He was later awarded a scholarship to attend Berklee College of Music where he majored in Music Education. "Going to Berklee was pivotal for my growth as a musician. I met so many great amazing musicians and friends," he exclaims. As an undergrad, Scott gigged with Pat Metheny, Gary Burton, and Kenny Garrett. Upon graduation, he already had offers from Joe Sample and Terence Blanchard.
The title track of his debut CD, The Source, was originally recorded on Terence Blanchard's 2005 record, Flow, for Blue Note Records. Flow features Scott as well as pianist and producer Herbie Hancock who plays on Scott's composition. "Being a part of Terence's group for seven years has been a godsend. He has given the members of the band freedom to grow and cultivate our voices. When we went in to record 'The Source' Herbie said he would play on it; one can only imagine how I felt." If that weren't enough, Scott's composition was the Grammy nominated track (for Hancock's solo). "I knew when I went in to record my record that 'The Source' would be the title track. It's is an homage to humanity. While the world is at unrest, I believe compassion will prevail." Kendrick Scott is one of the bright stars in an amazingly talented group of young drummers on the scene today. He remains a first call player for major artists because his humanity and compassion extends into the notes and phrases he chooses to play, which makes his playing consistently ring true as it springs forth from an ego-less, honest place. These deep roots, connected to his mentors, inspirations, peers, his parents and to the church, enable Scott to be present and in the moment, bringing to the table the wisdom of a veteran musician and the adventurousness of a perpetually curious young artist. In the words of Terence Blanchard, "Kendrick is a true artist of the highest order. He is not bound by the conventional wisdom of the music world. I've noticed that he never says why, but rather why not. He is exactly what the music world needs: someone with the vision and courage to press forward and expand the world of music. I am blessed to have him around and look forward to seeing what he does every time we play."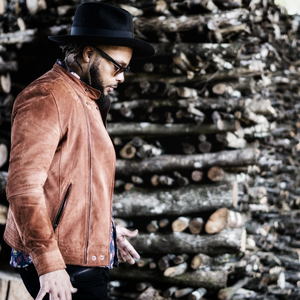 Logan Richardson, alto sax
Born and, raised in Kansas City, Missouri, Logan Richardson was mentored by some of the finest figures in the history of improvised music, including Jay McShann, Claude "Fiddler" Williams, and Queen Bey, in addition to having artists such as Max Roach, Shirley Scott, Jimmy Heath, Clark Terry, Kenny Burrell, Marcus Belgrave, Richard Davis as artists in residence between the ages of 15 to 19 years old.
At 19 years old he moved to Boston, Massachusetts to study at the Berklee College of Music, and after one year Logan left Boston to move to New York to complete his studies at The New School University on a full scholarship. At the age of 21 years old Logan was provided with immediate opportunities to perform, tour, and record professionally with masters such as Joe Chambers, Butch Morris, Stefon Harris, Ambrose Akinmusire, Greg Tardy, Nasheet Waits, Michelle Rosewoman, Billy Hart, and Jason Moran.
In 2006 Logan released his debut album, Cerebral Flow, and in 2009 he followed up with his sophomore album, Ethos. In 2011 Logan moved from New York, to Paris where he has continued to build a wide spread international acclaim for his angular, shape painting, intervallic approach to playing the alto saxophone. Logan has been received favorably for his uniquely identifiable sound on the alto horn, in addition to his compositional fortitude in which he displays at a great depth as an urban sound designer.
In 2012 Logan collaborated with Concord Records, and soon after released the project, NEXT Collective, in addition to being the alto voice in this formation, Logan was also an arranger, and co-producer for the project.
Logan recorded his highly anticipated third album, SHIFT, with an elegantly matched band of artists, innovators, and including 20 time grammy winning guitarist, Pat Metheny; MacArthur genius grant recipient, and Artistic Director of Jazz at Kennedy Center, pianist, Jason Moran; the greatest living drummer, and son of master Freddie Waits, drummerNasheet Waits; innovator of the double bass.
Logan has recently recorded his fourth album as a band leader entitled "Blues People" featuring Richardson on Alto Saxophone, and effects; Justus West, Electric Guitar, & Vocals; Igor Osypov, Electric Guitar; DeAndre Manning, Electric Bass; Ryan J. Lee, Drums.
This project sonically sets Logan off into a completely different territory as he dives deeper into his roots presenting a sci-fi themed, hauntingly 80's referenced, soundtrack to his life. This album is now available on the Stretch Music/ Ropeadope and Universal Music labels worldwide.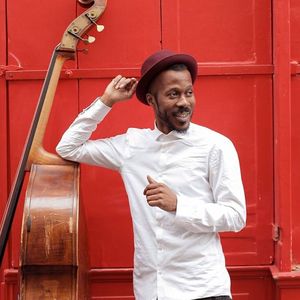 Joe Sanders, bass
Being a conduit for emotion and awareness through the bass, Joe Sanders does the utmost to constantly be creatively in the moment with every note he plays. As a native of Milwaukee, Wisconsin he acquired an appetite for various sounds throughout his adolescence, whether emitted through the radio in the form of blues to exalted voices in the Baptist Church filled with exalted voices.
Since departing the Midwest for California in 2002 to attend the Brubeck Institute, Joe has been fortunate to perform and learn alongside such luminaries as Dave Brubeck, Christian McBride, Terence Blanchard, Ron Carter, Roy Hargrove, John Clayton, Jimmy Heath, Charlie Haden, Herbie Hancock, Charles Lloyd, Wayne Shorter, and Geri Allen.
Upon the completion of the Thelonious Monk institute in 2007, Sanders relocated to New York City where he eventually emerged as an integral part of the thriving NYC jazz scene. Joe expanded on relationships started through various jazz education programs with visionaries such as Gerald Clayton, Justin Brown, Christian Scott, Ambrose Akinmusire, and Fabian Almazan, all the while forging new, impactful, and meaningful kinships. These collaborations with members of his generation and the influence of his elders pushed Sanders into a newfound way of conceptualizing the bass, playing music, and living life.
2012 was a culmination of new and old associations with the release of his premiere album as a leader on the acclaimed Criss-Cross Jazz label, 'Introducing Joe Sanders' which included a Jerome Foundation/Jazz Gallery commissioned piece written for four basses, piano, saxophone, and drums. But the never-ending pursuit for knowledge never stopped as Joe sought out new avenues and adventures to furthermore enhance his pursuit of enlightenment and "the moment." One year later, Sanders found himself on stage with a person who embodies similar qualities, Charles Lloyd. Alongside Lloyd, Sanders expanded his knowledge of the history of jazz from one who lived it, and furthered his passion to explore the infinite possibilities of the unknown.
Continuing the journey in 2017 Sanders performs and tours regularly with his ensemble, "Joe Sanders' Infinity", and as a sideman with Kendrick Scott Oracle, the Gerald Clayton Trio, and the Ben Wendel Quartet. In September 2017, Joe released his second album as a leader, 'Humanity', as a commentary to the constant violence affecting our daily lives, and reminding us to see and treat each other with compassion and love as human beings.
Joe currently lives in Paris with his beautiful wife and son. When not performing in over 18 countries, teaching master classes or private lessons, or touring over 100,000 miles every year, he enjoys writing about himself in third person over a glass of white wine. 
Note: Ticketing prices can change without notice.