UPCOMING EVENTS
RENO JAZZ, RENO BARS, RENO EATERIES

Don't Miss These Great Performances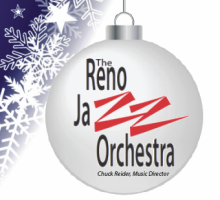 Jazz for the Holidays
A Gospel Christmas
Featuring
The Reno Jazz Orchestra
In Concert with
The Pat Esters Gospel Choir
and Reno Youth Jazz Orchestra

Saturday December 16, 2017
7:30 PM
Sunday December 17, 2017
2:00 PM

Whitney Peak Hotel
Cargo Concert Hall
255 N Virginia St.
Reno, NV

Wednesday, December 20, 2017
7:00 PM

Olympic Village Inn
1909 Chamonix Pl
Olympic Valley, CA

Reserved Seating
Tickets & Information
RenoJazzOrchestra.org
or call 775-372-6160
Reno Jazz Orchestra Mixes Big Band, Gospel Choir, for Upcoming Holiday Shows
The spirit of Christmas comes to life as the 17-piece Reno Jazz Orchestra and its Gospel Choir blends Christmas favorites, jazz, and soul - with a few surprises mixed in – for three performances of feel good, 'get ready for the holidays' music and song. 
 "Last year's Gospel Christmas Show with the RJO was such a success we decided to bring it back to the Reno and Lake Tahoe region," said Chuck Reider, Music Director. The first shows are December 16 at 7:30 p.m. and December 17 at 2:00 p.m. at the Cargo Concert Hall at Whitney Peak Hotel in Reno, NV. Tickets start at $35.  The final show starts at 7:00 p.m. on December 20 is hosted at the Olympic Village Inn at Squaw Valley, CA . Tickets start at $40.
"We draw great inspiration from each other," Reider said as he referred to the Gospel Choir. This show is like nothing you ever experienced before. It speaks to lovers of jazz and holiday music."
This year's performance at Squaw Valley is just part of their annual "Merry Days and Holly Nights" festivities.  Throughout December, the community offers seventeen days of merriment with music, arts and more for locals and visitors alike.  For a full calendar, visit SquawAlpine.com 

The EL Cord Foundation, Nevada Arts Council, National Endowment for the Arts, Art Works, Reno Gazette Journal, Healing Healthcare Systems, Thunder Rand & Co., and the RJO Band Fans and Partners support the Reno Jazz Orchestra's holiday events.
For more information, call the RJO at 775-372-6160.
Ongoing Gigs