UPCOMING EVENTS
RENO JAZZ, RENO BARS, RENO EATERIES

Jazz Around Town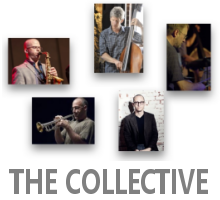 FTLOJ & KUNR Present
The Collective
Sunday, February 17, 2019
7:30 PM
Reno Little Theater
147 E. Pueblo St.
Reno, NV
Suggested Donation: $10
FTLOJ & KUNR proudly present
The Collective
The Collective, one of the most creative and distinctive jazz ensembles in the northwestern United States, features trumpeter Ralph Alessi, pianist Adam Benjamin, bassist Hans Halt, drummer Andrew Heglund, and saxophonist Peter Epstein.
In addition to maintaining a busy performance schedule, the group's members are dedicated instructors, and form the core of the Jazz Studies area at the University of Nevada, Reno. Each of the group's musicians is eager to share his knowledge of improvisation, composition, history, and other aspects of the jazz craft.
Ralph Alessi was born in San Francisco, CA, the son of classical trumpeter Joe Alessi and opera singer Maria Leone. But after taking degrees in jazz, trumpet and bass, he studied under the legendary Charlie Haden at CalArts and lit out for New York, where he swiftly became a ubiquitous presence on the downtown scene. He's been a frequent collaborator with such notable musicians as Steve Coleman, Jason Moran, Don Byron, Ravi Coltrane, Fred Hersch, Uri Caine and Dafnis Prieto. Alessi has recorded nine albums of original compositions which draw on everything from post-bop to neo classical music. Jazz Times named This Against That's debut outing one of the ten best recordings of 2002 and in 2010, Alessi released "Cognitive Dissonance" which received a four-star review from Downbeat Magazine and was included in The New Republic's top 10 list of records of 2011. He currently records for the ECM record label and in 2013 released Baida which was called "unstoppably inventive" by The New York Times. In 2016, he released Quiver, which coincides with a week-long engagement at The Village Vanguard.
Adam Benjamin is a Grammy-nominated and critically acclaimed pianist, keyboardist, composer and writer based in New Orleans. Recognized as a "Rising Star in Jazz" in DownBeat magazine's critic's and reader's polls for six years running, his unmistakable sound crosses stylistic boundaries and challenges traditional notions of jazz. Adam maintains a humble and humorous approach that connects him with his audiences worldwide.

Adam is a founding member of Kneebody, an electric quintet widely recognized as one of the most unique ensembles in jazz today. Kneebody's debut recording as Concord Records recording artists, titled The Line, is set for release in September 2013. Kneebody's 2009 Grammy-nominated release, 12 Songs of Charles Ives, is a radical reinvention of the songs of Charles Ives in collaboration with singer Theo Bleckmann (Winter and Winter, 2009). You Can Have Your Moment(Winter and Winter, 2010) is the fourth full-length album from the "spontaneous and exciting" (DownBeat) "freakishly talented quintet" (All About Jazz).
Peter Epstein
Peter Epstein began his career in 1984 in Portland, Oregon. After several years apprenticing with many of the region's top jazz artists, he relocated to Los Angeles, California, to study jazz saxophone and various world music genres at California Institute of the Arts.
After receiving a Bachelor of Fine Arts degree from CalArts in 1992, he moved to Brooklyn, New York, and has since appeared on more than 50 recordings and toured in 20-plus countries with artists including Brad Shepik, Ralph Alessi, Bobby Previte, James Carney, Joao Paulo, Jim Black, Scott Colley, Ravi Coltrane, Medeski, Martin & Wood, Peter Erskine and many others. Epstein has recorded seven critically acclaimed albums as a leader:Staring At the Sun (MA); The Invisible (MA; Solus;(MA); Old School(MA); Lingua Franca; (Songlines); Abstract Realism;(Origin), and his latest, Polarities(Songlines, 2014).
Hans Halt holds his Bachelor and Master degrees from UNR and is a full time instructor of bass and jazz studies at the university. He is an integral part of the Program of Jazz and Improvisational Music, teaching all levels of jazz improvisation, jazz arranging, jazz composition and jazz keyboard techniques. Mr. Halt has performed with numerous top jazz artists participating in the Reno Jazz Festival, including Peter Erskine, Bobby Hutcherson, Geri Allen, Fred Hersch, Lee Konitz, Ravi Coltrane, and Avishai Cohen and Joe Lovano. In June 2016, Mr. Halt toured with acclaimed pianist Art Lande and saxophonist Paul McCandless. In July 2016, he was a recipient of an Artist Fellowship grant from the Nevada Arts Council.
Andrew Heglund is Assistant Professor at the University of Nevada, Reno where he teaches percussion, directs the UNR Percussion Ensemble and Jazz Big Band 1. Heglund holds a Doctor of Arts Degree in Music from the University of Northern Colorado and a Master's of Music Degree in Jazz Studies from the University of North Texas. Since moving to the Reno-Tahoe area in 1996, Heglund has performed with jazz artists Lee Konitz, Cedar Walton, Bobby Hutcherson, Bud Shank, Ravi Coltrane, Robin Eubanks, and Fred Hersch. He also performs with the UNR faculty quintet The Collective, The Reno Jazz Orchestra, and the Ed Corey Trio. Heglund has played on three CD's with the Collective (North, Boats, Balance, and Once and Again) and one CD with the Ed Corey Trio (Modal Citizen). He also performs with the Reno Philharmonic Orchestra and the Discover Music Percussion Ensemble. Recently, Heglund was percussion soloist with the University Wind Ensemble for their performance of Joseph Schwantner's Concerto for Percussion and Orchestra. Dr. Heglund is an active clinician/adjudicator in the Northern Nevada and Northern California areas and organizes the annual Northern Nevada Day of Percussion.
Reno Little Theater is located in Reno's vibrant Midtown district.